This site is best viewed at 1024x768 using 32 bit colour.
Bought to you by Gavin A.K.A. "Scaramouche"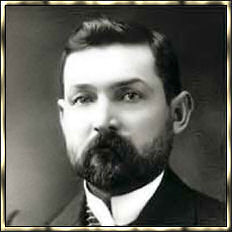 John Christian Watson
3rd Prime Minister.

Terms In Office:
27 April 1904 - 18 August 1904
Time In Office:
3 months, 21 days.
Political Party:
Australian Labor Party
Electorates Served:
Bland
South Sydney

He Was Born:
9 April 1867, Valparaiso, Chile.
Attended School At:
He attended primary school in Oamaru, New Zealand (c1877-79)
Qualifications Achieved:
Typographical trade certificate c1886
Occupations:
Worked on the railways as a 'nipper'
A printer's assistant at age 13
An apprenticeship as a compositor on the North Otago Times.
Union Official
Company Director
Married:
Ada Jane Low on the 27 November 1889
(she died in1921)
Antonia Dowlan 30 October 1925
Children:
Jacqueline (1927) from marriage to Antonia Dowlan
Died:
18 November 1941, Double Bay, Sydney
Buried:
He was cremated and his ashes are at North Sydney Crematorium.
PLEASE NOTE: Both these links will open in a popup window

John Christian (Chris) Watson was the only son of Martha & Johan Tanckson ,a Scottish seaman, who emigrated to New Zealand. He was born while the immigrant family were en route. When Watson was two, his mother married George Watson, and the family lived in New Zealand. After primary education, enhanced by his mother's tuition, he became a 13-year-old compositor's apprentice on the North Otago Times.

On becoming a qualified tradesman, he joined the local typographers union. In 1886, as a skilled tradesman of 19, he crossed the Tasman in search of wider opportunities. A tradesman with only a few years formal schooling, John Christian (Chris) Watson arrived in Australia in 1887, aged 20. Within three years, he had a job, a wife, and a cause - labour politics. Six years later Watson migrated to New South Wales where he worked in Sydney on the Daily Telegraph, the Sydney Morning Herald and, from 1888, the Australian Star, a protectionist paper. On 27 November 1889 he married Ada Jane Low, a Sydney seamstress. Three months later, aged 22, he was elected typographical union delegate to the New South Wales Trades and Labour Council. Already recognised for his common sense, courage and ease with people, Watson readily involved himself in the rapidly growing labour movement in New South Wales.
Intercolonial trades union conferences held during the 1880s brought together delegates from unions large and small, uniting shearers, seamen and seamstresses. The vigour and commitment of the movement was unforgettably signalled to British as well as colonial governments in 1889. That year, the London dock strike was won with the donations of unionists in Sydney and Brisbane. The sums collected in the Australian colonies far exceeded the total raised throughout Britain.
The crushing of the intercolonial maritime strike in November 1890 was a major factor in the surge of labour political organisation - a striking phenomenon, widely recorded by poets, writers, and painters. Alfred Deakin observed in 1891 that the rise of labour in politics "is more significant and more cosmic than the Crusades".
By 1891, four of the six Australian colonies had labour political organisations set up to gain better representation of labour in the colonial parliaments, with the fifth, Western Australia, following in 1893. In Queensland the Australian Labour Federation was formed in 1889. In South Australia the United Labor Party began in 1891. The same year a Progressive Political League formed to provide a political base for labour interests in Victoria. In New South Wales, Watson was closely involved in establishing the Labour Electoral League in 1891. He was the first secretary of the League's West Sydney branch, and prominent in the campaigning that returned 35 Labor members to the New South Wales Legislative Assembly in June 1891.
In January 1892, Watson was elected vice-president of the Trades and Labour Council. He successfully negotiated agreement when the Council was in conflict with the Labour Electoral League executive. He led a deputation to Macquarie Street on 15 September 1892 in support of the striking miners at Broken Hill, aimed at uniting Labor parliamentarians in support of George Reid's censure motion against the New South Wales government. As the depression of the 1890s worsened, Watson agitated for assistance for the thousands who were unemployed by 1893. In 1894 he helped run a cooperative settlement for the jobless.
His passionate conviction that solidarity was essential to the labour cause was nowhere more evident than at the unity conference he organised for 9-11 November 1893 at Millers Point, a wharfside suburb of Sydney. From the chair Watson turned a chaotic meeting into a productive one. Participants agreed to a stronger solidarity pledge for parliamentary representatives and the expulsion of dissidents.
At the annual party conference in March 1894, Watson outshone even William Holman and WM Hughes in his role in establishing what would become the key principles of an Australian Labor Party: the authority of the party conference, the role of the executive, the parliamentarians' pledge and caucus solidarity.
In July 1894 Watson won the New South Wales seat of Young, joining the parliamentary Labor Party led by Joseph Cook. The following year WM Hughes took a Labor seat in New South Wales. All three future prime ministers retained their seats until they resigned to stand for the first federal election in March 1901. On 8 May 1901, at the inaugural meeting of the first Federal Parliamentary Labor Party, Watson was elected leader.
The first federal parliament was ceremonially opened the next day and, on 10 May, the House got down to business. Edmund Barton's Protectionist government was dependent on Watson's support to pursue its legislative program. For Labor, free trade meant a loss of protection for wages and conditions, and for nourishing local employment. A fragile alliance was built around this issue.
Watson was elected to the new Commonwealth parliament in 1901 as Member for the New South Wales seat of Bland, and held this seat until becoming Member for South Sydney in 1906. He was leader of the Federal Parliamentary Labor Party from May 1901 to October 1907, during which time Labor, while sitting on the cross benches between Alfred Deakin's Protectionist government and the Free Trade opposition, regularly held the balance of power.
'Solidarity' was a bone of contention between Labor aspirants to Australian parliaments. They argued whether a caucus outside Parliament, consisting largely of union leaders, should have the right to direct Labor's votes in Parliament. At least one man rejected the idea so determinedly that he left the Labor Party.
But Chris Watson was one of the majority who signed the pledge of Solidarity, believing: "If we don't hang together we'll hang separately" Solidarity, then unique to Australia, was to buttress a powerful new force on the political scene.
From Deakin's side, an indissoluble obstacle to formal coalition with Labor was his absolute rejection of the idea of Caucus control. With compulsory arbitration prominent in Labor's platform, the introduction of the Conciliation and Arbitration Bill in July 1903 brought the party differences into sharp focus. The resignation of Minister Charles Kingston over Cabinet's exclusion of seamen from the provisions of the Bill, and the Victorian railway strike in May 1903, sharpened electoral support for Labor.
Unable to secure Labor support for its Conciliation and Arbitration Bill, Deakin's government fell in April 1904. Watson was commissioned to form a government - the first national labour government in the world - in which he served as Prime Minister and Treasurer. Lacking reliable alliances with either the Protectionists or Free Traders, Watson's government was short-lived. When Labor introduced an amended Conciliation and Arbitration Bill in August 1904 it was also defeated in parliament. Watson resigned and was replaced as Prime Minister by George Reid, leading a conservative Free Trade-Protectionist coalition.
The first sitting of the new parliament began on 2 March 1904. Six weeks later, Deakin was unable to gather the numbers for a government amendment to the Conciliation and Arbitration Bill. He resigned as Prime Minister on 27 April. The same day, the Governor-General, Lord Northcote, summoned Watson to form a government.
Despite the ability of the new Prime Minister for his role, the government hung on the fine thread because of the lack of a definite majority in the parliament after the second federal election.
Although Watson sought a double dissolution of parliament so that an election could be held, Lord Northcote, who was the Governor-General, refused. Being unable to command a majority in the House of Representatives, he resigned, and his term in office ended on 18 August 1904 after spending only 4 months in office.
He was replaced as the Labor Party leader by Andrew Fisher in 1907. He remained in parliament until 1910 but he was not given a ministry in Fisher's government of 1908-1909. After that the never sought another ministry.
Out of parliament, Watson ended his association with the Labor Party in 1916 over the question of conscription. He became active in business and from 1920 until his death in 1941 was president of the National Roads and Motorists' Association (NRMA)

He was Australia's youngest Prime Minister being elected at the age of 37.
He was the first leader of the Labor Party.
He was the first Labor Prime Minister.
He established the solidarity rule by which he was expelled from the Labor Party.
He designed the soldier settlement scheme in 1917.
He was a founder of the National Roads and Motorists Association.
He was also a founder and first chairman of Ampol in 1936.
He was trustee of Sydney Cricket Ground.

The reference material used to compile this page is listed below:
McMullin, Ross, 'John Christian Watson' in Michelle Grattan (ed.), Australian Prime Ministers, New Holland Press, Sydney, 2001
McMullin, Ross, The Light on the Hill: The Australian Labor Party 1891-1991, Oxford University Press, Melbourne, 1991
Broadhead, H.S., 'J.C. Watson & the Caucus Crisis of 1905', Australian Journal of Politics and History, v.8, no.1, May 1962: 93-7.
'J.C. Watson in New South Wales Politics 1890-1894', Royal Australian Historical Society Journal, v.48, pt.2, June 1962: 81-104.
Australian Dictionary of Biography 12; Civilising Capitalism: beginnings of the Australian Labor Party (1989), Bede Nairn
Grassby, A and Sylvia Ordonez, The Man Time Forgot: The Life and Times of John Christian Watson, Pluto Press, Sydney, 1999
'Monash biographical Dictionary of 20th Century Australia' (Reed Reference Publishing, 1994)
Souter, Gavin, Acts of Parliament, Melbourne University Press, Melbourne, 1988
'Dictionary of Famous Australians' Ann Atkinson (Allen & Unwin, 1995)
Souter, Gavin, Lion and Kangaroo: The Initiation of Australia 1901-1919, William Collins, Sydney, 1976
Dictionary of National Biography 1941-50, Oxford University Press, London, 1959: 927-9.
Nairn, N.B., 'J.C. Watson: A Genealogical Note', Labour History, v.34, 1978: 102-3.
Crisp, LF, Australian Federal Politics and Law, Melbourne University Press, Melbourne, 1956
The National Archives Of Australia.


The design, layout and contents of this page are Copyright by Scaramouche© 2000 - 2005
All Rights Reserved.