This site is best viewed at 1024x768 using 32 bit colour.
Bought to you by Gavin A.K.A. "Scaramouche"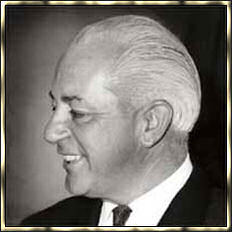 Harold Edward Holt PC, CH
22nd Prime Minister.

Terms In Office:
26 January 1966 - 19 December 1967.
Time In Office:
1 year, 10 month, 23 days.
Political Party:
Liberal Party.
Electorates Served:
Fawkner.
Higgins.

He Was Born:
5 August 1908, Stanmore, Sydney.
Attended School At:
Wesley College, Melbourne.
University of Melbourne (1927-30).
Qualifications Achieved:
Bachelor of Laws (Melbourne).
Occupations:
Solicitor practised law on his admission to the Bar in 1931.
Secretary to the Victorian Cinematograph Exhibitor's Association.
Married:
Mrs Zara Fell, 8 October 1946, Toorak, Melbourne
Children:
Nicolas (1937), Sam and Andrew (1939)
Adopted his new wife's children
Died:
17 December 1967, Melbourne
He disappeared while swimming at Cheviot Beach near Portsea, presumed drowned.
Buried:
His remains were never recovered from Port Philip Bay.
Honours:
PC
(Privy Counsellor)
1953
CH
(Companion of Honour)
1967
Military Service:
Enlisted as a gunner in the 2nd Australian Imperial Force on 22 May 1940.
Discharged on 20 October 1940.
The short enlistment was due to Prime Minister Menzies recalling him to parliament.
PLEASE NOTE: Both these links will open in a popup window

Harold Edward Holt was the elder of the two children of schoolteachers Thomas and Olive (Williams) Holt. He was born in the Sydney suburb of Stanmore on 5 August 1908. The family lived in three different cities during his childhood, Sydney, Adelaide and Melbourne. From 1920 to 1926 he finished is schooling at Wesley College in Melbourne. As a student at the University of Melbourne, Holt was outstanding in sports and in debating, graduating in 1930 with a law degree. He worked first for a local firm of solicitors, and was admitted to the Bar in 1932, at the age of 24. Unable to make a living as a barrister during the Depression, he set up his own practice as a solicitor in 1933. Holt's father was then working with theatre, film and radio entrepreneur FW Thring, and with his brother in the Hoyt's cinema chain. Holt's interest and contacts in this world developed both his professional practice, and his social and political life. His friends included Norman and Mabel Brookes and another Wesley old boy, Robert Menzies, then Victoria's Attorney-General.

In 1933 Holt joined the United Australia Party (UAP) which was formed two years before. The UAP was formed from a merger of the Nationalist Party and a dissident Labor group, the UAP was led by Prime Minister Joseph Lyons. In 1934 Holt was the party's candidate for the federal seat of Yarra, standing against the sitting member, former Prime Minister James Scullin. Holt's third attempt won him the federal seat of Fawkner in a by-election in 1935. For the next four years he was a backbencher in the Lyons government, speaking frequently on a wide variety of subjects, including his favourite issues - health and physical fitness.
When Joseph Lyons died in April 1939, Country Party leader Earle Page was briefly Prime Minister. On 26 April, the United Australia Party elected Robert Menzies as the new leader, with WM Hughes his deputy. Menzies gave Holt, just 30 years old, a junior Cabinet position assisting the Minister for Supply and Development. Supply and Development was a new department established in the months before the declaration of war in September 1939, to supply munitions and aircraft, and extend Australia's defence industries. Holt lost this post in March 1940, as part of Menzies' negotiations with Earle Page for a coalition ministry with five Country Party members.
Between October 1939 and March 1940, Holt had three other brief Cabinet roles. He was minister assisting Robert Menzies with the Council of Scientific and Industrial Research, and then minister assisting with Trade and Customs while the Prime Minister briefly held the portfolio after the resignation of John Lawson. Holt also acted as Minister for Civil Aviation and Air while James Fairbairn was overseas negotiating Australia's role in the Empire Air Training Scheme. After he lost his ministerial post to Arthur Fadden, Holt enlisted in the army on 22 May 1940. He served as a gunner in the 2nd Australian Imperial Force for less than five months and never left Australian shores. In October he returned to Cabinet after the tragedy known as "The Canberra air disaster". In the winter of 1940, three of Menzies' senior Cabinet members, Geoffrey Street, James Fairbairn and Henry Gullet, were killed when their aeroplane crashed on the southern approach to Canberra.
After the federal election in September 1940, the Menzies government remained in office only with the support of two Independents, Arthur Coles and Alex Wilson. In the new ministry, Holt became the first to hold the newly created portfolio of Labour and National Service. This new wartime department was established under national security regulations on 28 October 1940. This portfolio immediately involved Holt in major negotiations with maritime unions and employers over a series of waterside disputes. It was also his task to introduce a national child endowment scheme for second and subsequent children. When Robert Menzies lost the leadership of the United Australia Party in August 1941, Country Party leader Arthur Fadden became Prime Minister. The Fadden coalition government was then defeated in a no-confidence motion on 3 October 1941, and the Governor-General commissioned Labor leader John Curtin to form a government.
No longer on the front benches, Holt resumed his legal practice in Melbourne and continued to speak frequently in parliament. He was Opposition spokesman on industrial relations, and a principal supporter of the growing 'anti-socialist' movement. From 14 October 1943, Holt served on the parliamentary joint committee on war expenditure.
At the federal election in August 1943, Holt retained Fawkner, though the United Australia Party (UAP) was virtually annihilated. Since its first very successful election in 1931, the UAP had lost seats heavily to Labor in 1937 and 1940. Holt dubbed the 1943 result the 'deathblow to the diehard Tories'. A month after the election, Robert Menzies replaced WM Hughes as leader of the UAP, and took decisive action to build a durable anti-Labor political force. Holt strongly supported the name 'Liberal' chosen by the UAP parliamentarians, and was a foundation member of the new Liberal Party. Five weeks before the surrender of Japan ended the 1939-45 war, Prime Minister John Curtin died. His deputy, Frank Forde, was Prime Minister until the Labor Party elected Ben Chifley as the new leader.
At the election on 28 September 1946, the Labor government was again victorious - the new Liberal Party won only 15 House of Representatives seats. Ten days after this election, the wedding of Harold Holt and Zara Fell was held. Friends for more than twenty years, since before Zara Fell's first marriage, the couple made their home in Melbourne with Holt adopting her three small sons.
Holt was a member of the joint committee responsible for parliamentary broadcasting from the first broadcast on July 1946, and served on the committee for the next three years. In August 1948 he was one of the Australian delegates to the Empire (from 1949 Commonwealth) Parliamentary Association. Meeting in London, delegates afterwards toured the British sector of the newly divided Germany. With delegate Dorothy Tangney, Holt also attended a United Nations meeting in Paris in late October. The month before, an Australian, HV Evatt, had been elected president of the United Nations General Assembly.
In 1949 the Chifley government increased the size of the House of Representatives from 75 to 121 (including a non-voting Member for the Australian Capital Territory). As a result, the Senate expanded from 36 to 60 seats. After the redistribution to form the new electorates, Holt became the candidate for Higgins, a new seat carved out of his former Fawkner electorate. For the December 1949 election, the Liberal Party and Country Party ran a joint campaign building on Labor's unpopularity for extended post-war austerities. The campaign also emphasised growing Communist activism in politics and in the trade union movement. Though Labor responded with a strong campaign, the Chifley government was voted out of office.
The new ministry, led by Robert Menzies and Arthur Fadden, was sworn in on 19 December 1949. At 41, Holt became Minister for Immigration and Minister for Labour and National Service, and ranked fourth in Cabinet seniority. The Chifley government had created a separate Department of Immigration in 1945 and under the first minister, Arthur Calwell, the emphasis for the first time moved away from British migration. Instead, the new policies included the resettlement of eastern Europeans displaced by the war.
With Holt in charge, in 1950 the department's plan was to bring 200,000 migrants from Britain, Holland, Malta and Ireland to build an Australian population of nine million by 1953. The initial emphasis was on family group migration but, from August 1951, workers for major public works such as the Snowy Mountains scheme were the focus. Holt also enthusiastically developed plans for annual citizenship conventions. The first of these, held 22-26 January 1951, marked the Commonwealth jubilee year and was opened by Prime Minister Robert Menzies at the Albert Hall in Canberra. As Minister for Labour and National Service, Holt was responsible for the introduction of conscription to provide Australian troops for the war in Korea from 1950 to 1953. Registration remained compulsory for men over 18 until 1959. In March 1951, the Governor-General granted Menzies' request for a double dissolution after the Senate failed to pass the government's banking legislation. At the election on 28 April, the government was returned with a reduced majority in the House, and lacking control of the Senate.
In December 1951, Holt was elected chairman of the Council of the Commonwealth Parliamentary Association at a meeting in Colombo. He then made a four-day visit to Singapore, where he was briefed on the "Communist terrorist problem". This was Holt's first official visit to Southeast Asia, and was the beginning of an annual grand tour abroad, usually in the parliamentary winter recess, and almost always accompanied by Zara Holt. The first tour, from July to October 1952, included numerous stops in Europe and North America. The tour began with an audience with the Pope and migration meetings in Rome, then visits to Malta, Geneva and Venice. In London Holt negotiated with the Anglo-Iranian Company (later British Petroleum) over a proposal to build an oil refinery at Kwinana on Cockburn Sound, Western Australia.
From May 1953, just after the half-Senate elections, until September, the Holts were again overseas. This trip started in London where they attended the coronation of Queen Elizabeth II, and Holt was made a Privy Counsellor. A month after their return, the Holts were hosts to new United States Vice-President Richard Nixon and Patricia Nixon. As a member of the Olympics coordination committee for the 1956 Games in Melbourne, Holt ensured that the Nixon's toured the Olympic site during their visit.
The years 1954 and 1955 were eventful in Australian politics. Six weeks after the Royal visit in February 1954, Soviet embassy officials Vladimir and Evdokia Petrov defected. Robert Menzies called a federal election for 29 May 1954, but Labor gained five seats from the Liberals. In the ensuing months, however, bitter divisions in the Labor Party grew. In 1955 the party split, with anti-Communist 'Groupers' leaving the party. Robert Menzies secured an early dissolution of parliament on the grounds of bringing together the elections for both Houses. Three weeks before the 10 December election, Holt was injured and his driver killed, in a car accident after an election meeting in Newcastle.
A month after his government was returned with an increased majority, Robert Menzies divided his enlarged ministry of 22 into an inner Cabinet of twelve and an outer group of ten, who attended if required. Holt remained in the inner Cabinet as Minister for Immigration and for Labour and National Service.
In the mid-1950s, Holt presided over significant change in Australian immigration policy - it was the portfolio he said he found most satisfying. By 1954, Australia had received 250,000 migrants from post-war Europe, 50,000 of these from Holland alone. The following year, one million post-war migrants had arrived from all countries including Britain. In August 1956, Australia's immigration intake was cut for the first time in the post-war years, but Holt agreed to allow 10,000 refugees from Hungary to migrate to Australia after the Soviet Union violently repressed the uprising there.
On 26 September 1956, Holt succeeded Eric Harrison as deputy leader of the Liberal Party and leader of government business in the House of Representatives. When Robert Menzies reshuffled his ministry the next month, he transferred Immigration from Holt to Athol Townley. In his continuing role as Minister for Labour and National Service, Holt worked closely with Opposition Leader Arthur Calwell.
In March 1958, John McEwen succeeded Arthur Fadden as leader of the Country Party. At the November federal election Fadden retired from parliament. When the Menzies-McEwen coalition was returned with a substantial majority, Holt replaced Fadden as Treasurer in the ministry sworn in on 10 December 1958, ending the custom of a Country Party member holding the Treasury portfolio that had started with Earle Page in 1923.
In April 1959, Holt was the minister responsible for the establishment of the Reserve Bank, to take over the central banking function from the Commonwealth Bank. Holt had worked with the head of the Treasury Department, Roland Wilson, when he was first Minister for Labour and National Service and had developed his usual easy working relationship. Under Holt, Wilson implemented relaxation of controls on interest rates and on trading in government securities. Holt's first budget, brought down on 11 August 1959, was one to please both the voters and the Treasury. It provided a cut in income tax and an increase in pensions, but brought rises as well in telephone and postage costs, and heavier charges under the pharmaceutical benefits scheme.
For the next six years, the budget cycle structured work, family and social life for the Holts. The year Holt became Treasurer they had built a comfortable beach house at Portsea, Victoria, where Zara Holt's parents had retired. In 1959 the Holts were away for seven weeks, with World Bank meetings in Washington added to their itinerary. They returned to Australia in time for Holt to lead the Australian delegation to the Commonwealth Parliamentary Association conference in Canberra in November 1959.
By early February 1960, Cabinet was reviewing a deteriorating economic situation and considering ways to curb inflation when Holt's second budget was delivered in parliament on 16 August 1960. It was a moderate rather than a firm response to falling wool prices, drought and rising inflation. Two months later, on his return from the winter trip overseas, Holt introduced a supplementary budget. Dubbed 'Holt's Jolt', this measure raised interest rates, tightened credit, and increased the sales tax on motor vehicles. At a by-election the next month, the Coalition fared badly and, on 21 February 1961, Cabinet overturned the increase in car sales tax. On a 'Meet the Press' television appearance a week later, Holt declared himself unmoved by his Cabinet colleagues' apparent censure.
Despite a relaxation of Holt's unpopular 'credit squeeze' in June, the December 1961 election left the Coalition with a majority of only one seat in the House of Representatives. After visits to Athens, London and New York in 1962, Holt spoke at World Bank meetings in Washington in favour of global trading opportunities, rather than foreign aid for developing countries.
In April 1965, after Johnson had announced an imposition of 'arbitrary and unilateral' restrictions on overseas capital, Holt went to the United States for special economic and trade discussions. While Holt was in Washington, Prime Minister Robert Menzies announced the government's decision to send a combat force to Vietnam. Holt gratefully observed the immediate effects on his negotiations - doors opened both literally and figuratively. Holt brought down his last budget on 17 August, the 30th anniversary of his election to parliament. Six months later, on 20 January 1966, Robert Menzies announced his retirement. Holt was elected party leader by the Liberal parliamentarians, pointing out that he had managed to become Prime Minister without climbing over any 'dead bodies'.
When R.G. Menzies retired as Prime Minister, Holt took over the leadership of the Liberal Party, having been deputy leader since 1956. As the war in Vietnam grew more intense, Holt visited the USA in June 1966 to discuss the situation with US President L.B. Johnson. Holt confirmed his government's full support for USA's Vietnam policy, and adopted the slogan 'All the way with LBJ'. On the 14 February 1966, Holt introduced decimal currency - dollars and cents. The war in Vietnam was growing bigger. 4,500 soldiers were sent in 1966, including the first conscripts (non-volunteers). By the end of the year the number had risen to 6000. The first major battle in which Australians were involved, Long Tan, was fought in June 1967, leaving 18 Australian soldiers dead.
As more and more people in Australia began to protest against sending Australian troops to Vietnam, Holt campaigned for a general election on 26 November 1966 with Australian involvement in the war as a major issue. It seemed that, for the most part, the people of Australia agreed with his war policy, as his government was returned with an impressive ten seat gain. On the 14 February 1966, Holt introduced decimal currency - dollars and cents. More and more people became opposed to sending our troops to Vietnam. Holt's government was also under attack over various other issues, including its handling of the Voyager disaster, VIP aircraft flights, and a proposal to break the nexus between the two federal houses of parliament.
A week before the Holts' planned Christmas holiday at Portsea, Harold Holt flew to Melbourne for a peaceful weekend break there. On the afternoon of 17 December 1967, he disappeared in heavy seas while swimming off Cheviot Beach. Harold Holt was the third Australian Prime Minister to die in office. Despite a major search his body was never found.
His memorial service in St Paul's Cathedral, Melbourne, on 22 December was attended by US President L.B. Johnson, the Prince of Wales, UK Prime Minister Harold Wilson and other heads of state and government.

One of the longest continually serving members in the House of Representatives: He served for 32 years 4 months.
He was the third Australian Prime Minister to have died while still in office.
Holt was a federal parliamentarian for 32 years, the same as Robert Menzies.
At the age of 30, Holt was the youngest minister in parliament in April 1939.
He spent 30 years in parliament before he became Prime Minister - second only to John McEwen's 33 years in parliament before he succeeded Holt in 1967.
The first Prime Minister to employ a speech writer.
His only period in Opposition was from 1941 to 1949.
He served for ten years as Deputy Leader of the Liberal Party under Menzies.
With senior public servant HC Coombs, Holt was instrumental in the formation of the Australian Ballet in 1962.

The reference material used to compile this page is listed below:
The National Archives Of Australia.
Souter, Gavin, Acts of Parliament, Melbourne University Press, Melbourne, 1988.
'Menzies, Holt and the Liberals', Current Affairs Bulletin, v.37, 21 March 1966: 131-43.
Reid, A., The Power Struggle, Shakespeare Head Press, Sydney, 1969.
Gaul, Jonathan, 'Harold Holt's Life: A Human Approach to Great Issues', Canberra Times, 18 December 1967.
Rodan, Paul K., 'The Prime Ministership of Harold Holt', MA Thesis, University of Queensland, 1978.
Horne, Donald, 'Holt: An Australian Tragedy', Bulletin, 23 December 1967.
Souter, Gavin 'In Search of the Prime Minister' [in three parts], Sydney Morning Herald.
'Dictionary of Famous Australians' Ann Atkinson (Allen & Unwin, 1995).
Hancock, Ian, 'Harold Edward Holt', in Michelle Grattan (ed.), Australian Prime Ministers, New Holland, Sydney, 2000.
McGregor, Craig, 'Harold Holt' in Profile of Australia, Henry Regnery, Chicago, 1966.
Souter, Gavin, Lion and Kangaroo: The Initiation of Australia 1901-1919, William Collins, Sydney, 1976.
Holt, Dame Zara, 'My Life and Harry: An Autobiography', Herald, Melbourne, 1968.


The design, layout and contents of this page are Copyright by Scaramouche© 2000 - 2005
All Rights Reserved.