This site is best viewed at 1024x768 using 32 bit colour.
Bought to you by Gavin A.K.A. "Scaramouche"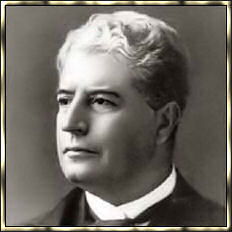 Sir Edmund Barton GCMG, PC, QC
1st Prime Minister

Terms In Office:
1 January 1901 - 24 September 1903
Time In Office:
2 years, 8 months, 24 days.
Political Party:
Protectionist.
Electorates Served:
Hunter.

He Was Born:
18 January 1849, Glebe, Sydney
Attended School At:
'Model School in Fort's Street', Sydney, 1856-58.
Sydney Grammar (1859-64)
University of Sydney (1865-68)
Qualifications Achieved:
Bachelor of Arts (Sydney).
Master of Arts (Sydney).
Occupations:
Barrister
Senior Puisne Judge of the High Court of Australia
Queen's Counsel
Married:
Jane (Jean) Mason Ross on the 28 December 1877, Newcastle, NSW
Children:
Edmund Alfred (1879), Wilfrid (1880), Jean Alice (1882),
Arnold Hubert (1884), Oswald (1888) & Leila Stephanie (1892)
Died:
7 January 1920, Medlow Bath, NSW
Buried:
South Head Cemetery, Sydney
Honours:
GCMG
(Knight Grand Cross of The Most Distinguished Order of St. Michael & St. George)
1902
QC (Queen's Counsel) 1889
PC (Privy Counsellor) 1901
Order of Rising Sun (Japan) First Class (1905)
Fellow of University of Sydney Senate (1882-89, 1892-1920)
PLEASE NOTE: Both these links will open in a popup window

Edmund Barton was born on 18 January 1849 in Hereford Street, Glebe, in Sydney to William & Mary Louise Barton. In 1851 the family moved to Cumberland Street in The Rocks, and when he was old enough 'Toby' Barton was enrolled at the nearby Fort Street Model School.
From the age of ten he attended Sydney Grammar School in College Street, where he met his lifelong friend Richard O'Connor. Twice dux of the school and school captain, Barton went on to an equally brilliant record at the University of Sydney. He was 19 years old when he graduated in 1868 with first class honours in classics. He had also achieved renown in the University Cricket Club.
Barton became a barrister in 1871. He was a sociable young man with a wide variety of interests ranging from the literary and scholarly to cricket and fishing. One of his fishing companions was George Reid, who took him along to the Sydney School of Arts Debating Society. There he developed his skills and confidence in public speaking.
During the 1870s Barton travelled through country New South Wales for court hearings - and for cricket matches and regattas. On an Easter cricket trip to Newcastle in 1870, Barton met Jane Mason Ross. In 1877 they married and settled in Sydney, where Barton's career turned from law to politics. Barton's twenties were shaped by the colony's legal, social and sporting circles.
In his thirties he moved readily between the spheres of the parliament and gentlemen's societies such as the Freemasons (he was initiated into the Australian Lodge of Harmony No. 556 in 1878) and Sydney's Athenaeum Club. He made two unsuccessful tries to enter politics before he was elected to the University of Sydney seat in the New South Wales Legislative Assembly in 1879. The following year, when the University seat was abolished, he successfully contested the rural seat of Wellington.
In 1882, elected with Sir George Reid to East Sydney, Barton served as Speaker in the Assembly and became well known in the Macquarie Street Parliament House. According to the Bulletin, the youthful parliamentarians heralded 'the triumph of Young Australia'. Though only 33, Barton was a respected and successful Speaker for four years. Then with the influence of Henry Parkes, Barton was installed in the Legislative Council for the next four years.
From 1891 to 1894 Barton again represented East Sydney in the lower House, this time in opposition to Reid, the leader of the emerging Free Trade Party. Barton saw free trade as a fatal flaw for Federation - the issue divided New South Wales from Victoria, which supported protection of industry by imposing tariffs on imported goods.
Barton abandoned free trade and stood on a protectionist platform against Reid. He was absent from the political scene from 1894 to 1897 and relied on his legal practice for income and to reduce the debts he suffered in the 1893 financial crisis.
He returned to the Legislative Council in 1897 and, in 1898, having lost a contest with Reid for a Legislative Assembly seat, took the Hastings-Macleay seat in a by-election. This was the last colonial election he contested.
Edmund Barton was a leading advocate of Federation, fired equally by Henry Parkes' speech at Tenterfield on 24 October 1889 and by Tasmanian lawyer and politician Andrew Inglis Clark. Barton's powerful speech to the Legislative Council on 8 October 1890 influenced New South Wales to participate in the national meeting proposed at the Australasian Federal Convention in Melbourne that year. Barton was subsequently nominated by the Council as a New South Wales delegate to the National Australasian Convention in Sydney in 1891.
Barton was a strong advocate for federation. He attended the National Australasian Convention in 1891. At the first session of the Australasian Federal Convention in 1897 he was elected convention leader and chairman of the constitutional committee. In March 1900 Barton led an Australian delegation to London to assist the passage of the Commonwealth of Australia Constitution Bill through the British parliament.
Three years after Parkes' speech in Tenterfield on the Colony's northern border, Barton himself addressed large crowds in southern border towns and some fifteen Federation leagues were formed. In the winter of 1893, supporters organised a Federation conference at Corowa and, in 1896, a second 'people's conference' was held in Bathurst. Parkes died that year and Barton succeeded him as leader of Australian Federation.
Each colony had prominent federationists and prominent opponents. Many of the organisations campaigning for women's right to vote were influential in the Federation movement and petitioned the constitutional conventions. Of the six colonies, only in South Australia could women voters use the ballot box to influence convention delegates. Having topped the poll in the election of New South Wales delegates, Barton was elected president of the convention that met in Adelaide in March 1897, in Sydney in September 1897 and again in Melbourne from January to March 1898.
After Parkes had complained to Barton that his country tour in 1892, the conferences at Corowa in 1893 and the conference in Bathurst in 1896, only delayed the legal steps for enacting a federal constitution. To this Barton replied, 'I am enlisting the people. Can you do without them?' His response affirmed the process of creating the new nation by popular vote. First the Constitution Bill was agreed by the convention delegates elected by each colony in 1897. Then it was debated in each of the six colonial parliaments. When each parliament passed the Bill, it faced six more hurdles - final referendums of the voters in each colony, held between June 1899 (New South Wales) and July 1900 (Western Australia).
The final step was the approval by the British parliament and assent of the Queen. In March 1900, a delegation comprising of Edmund Barton, Alfred Deakin, James Dickson, Charles Cameron Kingston & Philip Fysh went to London to represent all the colonies. The only colony not represented was Western Australia because it did not hold its Federation referendum until 31 July that year. For three months they lobbied for the successful passage of the Bill through the House of Commons and then through the House of Lords. Finally on the 9th of July 1900, the Bill was enacted, and on the 17th of September Queen Victoria proclaimed that the 1st of January 1901 would be the birth date of the new nation.
Commissioned to form the first Commonwealth government by the Governor-General, Lord Hopetoun, Barton was sworn in as Prime Minister and Minister for External Affairs on the 1st of January 1901. His ministry included former colonial premiers William Lyne (New South Wales), George Turner (Victoria), James Dickson (Queensland), Charles Kingston (South Australia), John Forrest (Western Australia) and Philip Fysh (Tasmania). Alfred Deakin of Victoria was also a minister. The general elections held in March confirmed Barton's government, but its majority in the parliament relied on support of the Labor Party. The new government's busy program included legislation to restrict immigration, and to establish the Commonwealth Public Service, the defence force, and the High Court of Australia.
On Christmas Day Barton announced the first Commonwealth ministry. Drawn from each colony, the ministers were:
Alfred Deakin (Attorney-General)
George Turner (Treasurer)
Charles Cameron Kingston (Minister for Trade and Customs)
John Forrest (Postmaster-General
James Dickson (Defence Minister) and
Sir William Lyne (Minister for Home Affairs).
Richard O'Connor & Neil Lewis, named honorary ministers without portfolio.
Barton served only a single term as Prime Minister, resigning in 1903 to take up an appointment as a Justice of the High Court. He remained on the High Court until his death in 1920.
He was knighted in 1902. He received the Knight Grand Cross of St. Michael and St. George. This is the highest award that is available.

Second Australian to receive the GCMG (Knight Grand Cross of The Most Distinguished Order of St. Michael & St. George). This was the highest knighthood available in the Empire.
(Sir Henry Parkes was the first to receive this knighthood)
One of three Australian Prime Ministers to receive Japan's Order of the Rising Sun, First Class
(the others were Robert Menzies and John McEwen)

The reference material used to compile this page is listed below:
The National Archives Of Australia.
Deakin, Alfred, The Federal Story, Melbourne University Press, Melbourne, 1963
Reynolds, John, Edmund Barton, Angus and Robertson, Sydney, 1979.
'Our First Prime Minister', People, 3 January 1951: 3-6.
Records of the Australasian Federal Convention, 1897-98
Rutledge, M., Edmund Barton, Oxford University Press, Melbourne, 1974.
'First Prime Minister of Australia', Australia's Heritage, v.4, pt60, 1971: 1436-40.
Bolton, Geoffrey, Edmund Barton, Allen & Unwin, Sydney, 2000
Souter, Gavin, Lion and Kangaroo: The Initiation of Australia 1901-1919, William Collins, Sydney, 1976
La Nauze, J.A., The Hopetoun Blunder: The Appointment of the First Prime Minister of the Commonwealth of Australia, December 1900, Melbourne University Press (for Australian Humanities Research Council, Publication No.1) Melbourne, 1957.
Australian Dictionary of Biography, Melbourne University Press, Melbourne, 1979: v.7 (1891-1939): 194-200.


The design, layout and contents of this page are Copyright by Scaramouche© 2000 - 2005
All Rights Reserved.